V800
$519
POLAR V800
GPS SPORTS WATCH
The Polar V800 is an advanced multisports GPS watch for serious sports enthusiasts and professional athletes who want to reach peak performance. #daretowin
Description
SMART NOTIFICATIONS
STAY IN THE KNOW
The most advanced training companion comes with smart notifications. Designed for 24/7 use and demanding sports conditions, the V800 makes sure you stay in the know wherever you are.
DON'T MISS A THING
See incoming calls and texts at a glance. Answer calls using your watch or decline them when training demands it.
KEEP UP TO DATE
Check message notifications conveniently on the V800's display when your phone is not at hand.
BE WHERE YOU NEED TO BE
V800 will alert you about the appointments on your calendar and makes sure you're always on time.
STAY SOCIAL
Get the latest social media updates on your wrist to make sure you're in the loop.
POLAR ECOSYSTEM
POLAR FLOW: A WORLD OF FITNESS
FLOW WEB SERVICE AND APP
Follow your daily progress and get guidance that helps you meet your goals. Learn how your daily habits can improve your wellbeing.
POLAR COACH
Free online tool for your coach to easily create training programs and follow your progress.
SENSOR COMPATIBILITY
Boost your performance with Polar Bluetooth® Smart sensors: heart rate, stride, speed, cadence and Kéo power. CHECK COMPATIBILITY WITH THIRD-PARTY POWER METERS
STRAVA
Sync with Strava via Polar Flow web service.
FEATURES
INTEGRATED GPS
The V800 includes fast and accurate GPS functionality, allowing you to see your speed, distance, and route.
SPORT-SPECIFIC PROFILES
Create and customize profiles for different sports and get exactly the data and guidance you need to train effectively in each one.
GREAT FOR SWIMMING
The V800 is waterproof to 30 meters and can measure your heart rate even in water (requires additional sensor). Supports both pool and open-water swimming.
RUNNING CADENCE FROM THE WRIST
Keep an eye on your running cadence to improve your running efficiency and avoid injuries.
PREDICT YOUR EVENT FINISH TIMES
Based on your long-term progress, Running Index analysis predicts your event finish times for 5K, 10K, half marathon and marathon runs.
IMPORT NEW ROUTES
Find new routes and import them to Polar Flow from other services that support GPX or TCX files.
TRACK YOUR ACTIVITY
Learn how your daily activity affects your recovery status and find the perfect balance between training and rest.
SENSOR COMPATIBILITY
The V800 is compatible with Polar Bluetooth® Smart running and cycling sensors, which provide even more detail about your training.
POLAR FLOW
The exclusive Polar Flow service records detailed information about each training session, allowing you to monitor progress and plan further training quickly and effectively.
STRAVA LIVE SEGMENTS
Strava Live Segments make your runs and rides more exciting. Your Polar V800 alerts you when you approach one of your starred Strava segments, gives you real-time data on your performance and shows your results after you finish the segment.
SMART COACHING
| | |
| --- | --- |
| | TRAINING LOAD |
| | Shows you how your training affects your body and helps you compare the load of different sessions. Monitor your load continuously to recognize your personal limits and adjust training intensity and duration accordingly.Read More |
ORTHOSTATIC TEST

Orthostatic Test is an easy and reliable test to determine your current condition. It shows how your heart rate responds to training and factors such as stress and illness. By repeating the test regularly, you'll learn what to expect with your heart rate and what can affect it. You can then adjust your training to allow your body to recover when it needs it.

Read More
RECOVERY STATUS

Shows you the time necessary for recovery before the next training session.

Read More
SMART CALORIES

Lets you know exactly how many calories you've burned based on your weight, height, age, gender, your individual maximum heart rate (HRmax) and how hard you're training.

Read More
TRAINING BENEFIT

Delivers motivating feedback immediately after training describing the effect of the session

Read More
ACTIVITY GUIDE

Shows how active you've been during the day and gives practical guidance for reaching your daily activity goal.

Read More
RUNNING PROGRAM

Train for a running event with a personal and adaptive training plan in Polar Flow. Choose from four different targets, 5K, 10K, half marathon and marathon, and get a training plan that fits you and your goals.

Read More
FITNESS TEST

A five-minute test that measures aerobic fitness from your resting heart rate, heart rate variability and your background information. Complete the test regularly to see the progress you're making.

Read More
RUNNING INDEX

Shows how your running performance is developing.

Read More
SPECS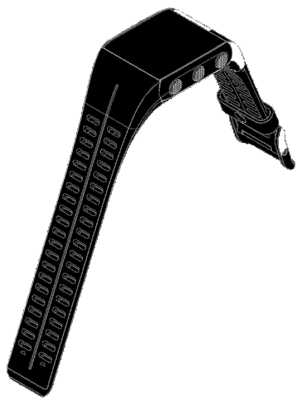 MEASUREMENTS
| | |
| --- | --- |
| Weight | 79g |
| Thickness | 12,7 mm |
| Display size | 128 x 128 pixels, high contrast, high resolution display |
TECH
Integrated GPS
Barometer
Accelerometer
8MB flash memory
Rechargeable 350 mAh lithium polymer battery
Battery duration up to 13h of training time with GPS and sensors and up to 50h in GPS low power mode
Gorilla glass window
Aluminum and stainless steel shell
Water resistant – 30m
CONNECTIVITY
USB cable for data sync with PC or Mac via Polar FlowSync
Bluetooth Smart
Hybrid solution for sensors: BT Smart & 5kHz (heart rate, stride, bike speed, cadence, power)
Polar Flow web service compatibility with Mac OS X 10.6, OS X 10.7, OS X 10.8, or later, and PC Windows XP, Windows 7, Windows 8, or later
Polar Flow mobile app compatibility
Updatable software
Compatible third-party power meters (Check third-party compatibility)
UI languages English, Spanish, Portuguese, French, Danish, Dutch, Swedish, Norwegian, German, Italian, Finnish, Polish, Russian, Chinese, Japanese