Now that the Christmas weekend is over, you start reflecting on all the feasts you've indulged in guiltily. By GIPHY If the jolly holidays made...
Now that the Christmas weekend is over, you start reflecting on all the feasts you've indulged in guiltily.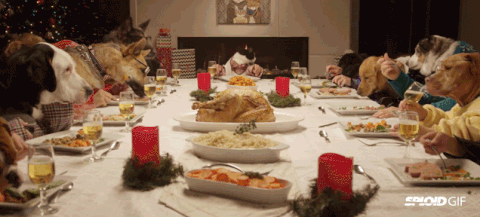 By GIPHY
If the jolly holidays made you ditch your healthy eating plans and gave you one too many reasons to overindulge in those sugary treats and heavy meals, it's time for a reset! Cleanse your body of the sugar, fats and carbs you've consumed with the following methods.
1. Drink warm lemon water
Photo: Healthy Food House
Fill your cup with warm water and add a few slices of lemon. Sip on this throughout the day, which will help to boost your metabolism rate and suppress any cravings you may have. The additional hydration also helps to flush out toxins accumulated in your liver and kidneys!
2. Include garlic in your diet
Photo: InstallingMuscles.com
One of the most accessible ingredients and best detoxing food available, garlic encourages the liver to produce detoxification enzymes that expel toxins from your digestive system. In addition, garlic also helps to amp up the flavour of your meal! Read about the other benefits garlic can provide for our health here.
3. Stay active
Photo: Cooking Light
You may struggle to find the motivation to hit the gym or go for a run, but your body could really use some workout right now. Resume your regular workout routines immediately, so as to encourage blood circulation and improve your digestion.
4. Tea becomes your best friend
Photo: The Alternative Daily
Green tea and herbal tea are superb at providing your body the antioxidants it needs. In addition, tea helps to curb your appetite and fills your tummy up, reducing your food intake.
5. Focus on the greens
Photo: Food Network
This is the time where you whip up bowls of salad filled with a colourful variety of fruits and vegetables. All the processed food you've consumed over the holidays do not provide your body the necessary nutrients it needs. Therefore, it is vital that you consume more vegetables and nutritious fruits to refuel your body.
6. Head to the sauna
Photo: Az Élet Szeretete
Unwind and allow your body to sweat it out in the sauna! Sweating not only helps with weight loss, it's also the best way to detoxify your body as it eliminates phthalates, BPA, and heavy metals accumulated in your system.
Monitor your diet and avoid overindulging this new year weekend! If you unknowingly still end up consuming more than expected, it's alright to let yourself off the hook and move on. Forget about it and direct your focus instead, on resuming your healthy and active lifestyle.
Cover Image: I2.wp.com