We will be frank, we can't get enough of this booty talk. I mean, who can resist admiring a firm and smooth booty right?...
We will be frank, we can't get enough of this booty talk. I mean, who can resist admiring a firm and smooth booty right? Now that we have covered the workouts for a perky bum, the food to eat for that bouncy ass, and the ultimate booty guide that helps you identify your butt type for the best booty makeover, it's time for us to talk about how we can achieve that smooth and silky butt cheeks that everyone will be starring at as we stroll across the beach.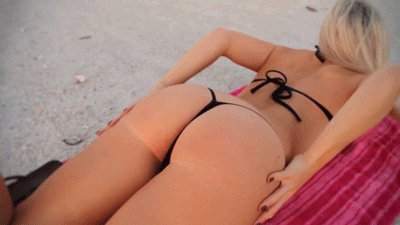 By GIPHY
1. Exfoliate your butt
Photo: Pinterest
We most commonly associate exfoliation with our face, but our booty deserves just as much care! Exfoliate your butt cheeks at least one to two times a week to prevent bumps, acne and clogged pores from developing! Try St. Ives Oatmeal Body Scrub, which is gentle enough for those with sensitive skin and leaves your skin smooth and nice smelling! Get it from Amazon.
2. Go for a waxing session
Photo: Perfect Eyelashes
Instead of shaving the area yourself, that is. Unless you have someone to help you out, shaving your rear isn't a great idea because of all the blind spots. You risk cutting yourself in that area, which is the last thing you want. Go for a professional full Brazillian wax if you're looking to remove the bum fuzz, or leave the hair alone because they seriously don't bother you anyways. In fact, the lack of hairs in the area causes more butt sweat!
3. Moisturize your booty
Photo: Johnson's
Your rear needs tender loving care as well, so when you're moisturizing your legs, don't forget to spread some of the moisturizers on your butt! If you have sensitive skin in the area, opt for a oil-free moisturizer to prevent any butt acne. Try Johnson's Baby Lotion for skin as smooth as a baby's bottom! Get it from Amazon.
4. Wash thoroughly
Photo: Rodale's Organic Life
As no-brainer as this may sound, you want to ensure that you've given your butt a thorough wash through to prevent any embarrassing moments. This is especially important if you've just ended a period cycle, as there may be residue or staining on your butt due to backflows.
5. Lighten up the dark areas
Photo: Food Matters
Dark and uneven skin tone in the booty area can be a huge embarrassing factor during pool time. This may be a result of friction against tight garments, accumulation of dead skin cells, prolonged sitting on a hard surface and poor hygiene. Lighten your bum with this home remedy involving lemons, which are well-known to be a bleaching agent effective at improving skin complexions.
Slice the lemon into half, and proceed to rub half of the lemon on the darkened area in circular motions for about 2 to 3 minutes.
Let the lemon juice stay on your skin for 10 to 15 minutes before rinsing it off with lukewarm water.
Apply a generous amount of moisturizer on the area thereafter.
Do not try this home remedy if you have sensitive skin.
6. Get rid of stretch marks
Photo: 2oceansvibe.com
Stretch marks occurring in the butt area can be a discouraging factor when wearing a bikini. Stretch marks are visible lines on the surface of our skin, and are often a few shades lighter than the rest of the skin in the area, making them quite obvious. They can appear due to reasons such as pregnancy, sudden and extreme weight gain or loss, stress, and genetics. Try using aloe vera gel, which has healing and soothing properties to reduce the appearance of stretch marks.
Rub the aloe vera gel in circular motions on the affected area.
Leave it on for about 15 minutes
Rinse it off with lukewarm water.
Moisturize the area thereafter.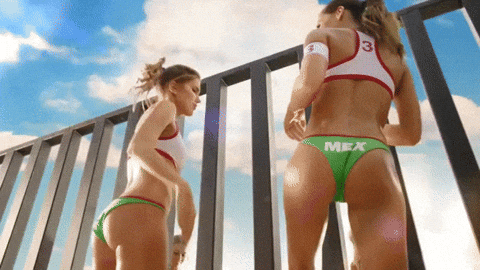 By GIPHY
With proper care, we can all achieve smooth and bootiful butts! Never neglect your rear area because they are just as important as the rest of your body.
Cover Image: Girlswithstuff.tumblr.com