The concept of an "ideal butt" has gone through numerous transformation even before the 1900s. There's just something about those curves that make both...
The concept of an "ideal butt" has gone through numerous transformation even before the 1900s. There's just something about those curves that make both genders stare in awe. To achieve the "ideal butt", we came up with the ultimate booty guide that will help you understand your own butt better, and discover the most effective method to transform your rear!
1. What shape is your butt?
Photo: The Better Butt Challenge
Surprise, surprise! Did you know that women's butts can be categorized into four main shapes? They are:
Photo: eXtra.cz
A 'H' shape butt means that your hip bones are either higher or more prominent, otherwise, it means your fats have accumulated in the 'love handle' area. This gives off the appearance of a squarish butt that extends straight down from your waist.
Photo: Mulpix
One of the more appreciated butt shapes of today, the 'O' shape butts also go by the name of bubble butts. They have a smooth and round appearance, with fat accumulated in the butt cheeks and above the butt cheeks. When viewed from the side, bubble butts are perky and full!
Photo: Blikk
Considered as the most feminine butt shape, the 'A' shape butt appears tapered from the waistline down to the bottom of the butt, forming an inverted heart shape. It is the result of fat in the lower portion of the butt and thighs.
Photo: xOrisOria News
This is more common in older women with depleting estrogen levels. The shift of fat from the butt to the midsection gives the 'V' shape butt a fuller top portion compared to the butt base. This shape is also more likely to sag.
2. Which exercises are suitable for your butt shape?
Before we jump into the types of exercises targetted at each butt shape, it is important to understand the muscles in your butt.
Photo: Hannah's Fitness & Training
Gluteus maximus is the largest muscle in your body, and it makes up the majority of the muscles in your butt. A stronger, larger and firmer gluteus maximus gives your butt a rounder appearance, and prevent your butt from sagging. This muscle is responsible for the backward extension of your hips, which occurs during exercises such as donkey kicks, squats, and hip thrusts.
Gluteus medius allows us to perform outwards rotation of our thighs and also to move our legs sideways away from our body. Training the gluteus medius help to ensure your butt has a perfectly round appearance.
Gluteus Minimus is the smallest muscle in the group, and is located directly beneath the gluteus medius. It assists the gluteus medius, and also allows the inwards rotation of our thighs.
Now, let's find out which are the muscles you should focus on toning according to your butt shape!
Ladies with such butts need to focus on building volume on the sides of their rear, targetting the gluteus medius to create the appearance of a rounded butt. Try doing side lunges!
Photo: Pinterest
If you're just starting out, you can ditch the dumbells and park your hands on your waist instead.
Engage your core muscles as you stand upright with your feets shoulder-width apart.
Keeping your left leg straight, take a large step sideways with your right leg, bending at the knee.
As your knee bends, push your butt out backward, as if you're getting ready to sit down on a chair.
When recovering to starting position, push through your right heel and gather momentum and strength in your glutes to emerge out of the lunge.
Repeat this for 20 times on each leg to complete a rep. Repeat the rep 3 times.
'O' shape butts will also benefit from building volume on the sides, and can follow the same exercise mentioned above for 'H' shape butts. Otherwise, 'O' shape butts will generally benefit from all butt targetted exercises to maintain its perkiness.
Despite having one of the most feminine butt shapes, ladies with 'A' shape butts must still workout to maintain the firmness of the butt. To prevent the bottom part of your rear from getting too wide, you can try doing the squat arabesque!
Photo: Pinterest
Start by standing with your feets shoulder-width apart.
Contract your glutes, and gradually lower your butt and back so that you end up in a half squat position. Make sure to keep your hips straight.
As you slowly rise up from the squat, shift your balance to the left leg and lift your right leg straight up behind you. Use your glutes to lift your leg.
As you lift your leg, you can slightly lean your upper body forward, and extend your arms in front of you. Keep your core contracted.
Lower your right leg and arms to recover.
Repeat this for 20 times on each leg, and repeat the rep 3 times.
It is important for ladies with 'V' shape butts to bulk up in their lower butt area. This may be restricted depending on your genetics. Besides the squat arabesque mentioned above, you can also do froggy glute lifts.
Photo: YouTube
You do not need to use a ball if you cannot find one!
Lie down on your stomach. With your knee in contact with the floor, bend your knees to lift your feet up.
Make both the soles of your feet meet, and keep them stuck together. If it's hard for you, you can try to spread your knees further apart.
Firming up your core, try to raise your legs up until your knees are off the ground for several inches without separating the soles from each other. Squeeze the muscles in your butt as you do this.
Lower your feet back down without allowing your knees to touch the floor.
Once again, squeeze your glutes and lift your feet back up.
Repeat this for about 50 times to feel the burn in your glutes!
Besides exercising, there are other methods to help enhance your booty! One of the easiest ways is by choosing the right clothes to complement your butt shape.
3. Jeans for the ultimate booty
Photo: Lover-Beauty
Jeans can either make or break your outlook. Wearing the wrong cut of jeans can make a perky butt appear flat, but the right one will create a reversed effect! The next time you go jeans shopping, make sure to check how your butt looks in the pair of jeans from all angles! You don't want to walk away with the wrong pair of jeans!
Here are some details you should look for in a pair of butt-enhancing jeans to ensure your rear looks round and firm in denim:
Smaller rear pockets: This creates a contrast with the circumference of your butt, making your rear appear bigger than it actually is.
Rear pockets that are slightly angled inwards: This helps to create the illusion of fullness in your butt.
Heart shaped seams: Such seams are flattering as they enhance the curves of your booty and create the illusion of a bubble butt.
Stretchy material: The appearance of fabric stretching at the seat of your jeans create the illusion of a bigger butt that is fitted snuggly in the pants.
Fading effect: When used in the appropriate places, fading can help make your butt appear bigger.
If jeans are not your cup of tea, you may prefer the next butt enhancing method instead!
4.  Butt-padded underwear
While you wait patiently for the results of your gym session to appear, you can turn to butt-padded underwears for temporary enhancement! These underwears can be worn under any kind of clothing, so you are no longer restricted to your jeans for that butt enhancing effect!
There are three types of butt-padded underwear:
Underwear with built-in paddings
Photo: AliExpress.com
The paddings in these underwears are fixed and cannot be removed, meaning you don't have to worry about it shifting around under your bum. This convenient solution may not give off the most natural results since the position of the paddings cannot be customized.
Underwear with removable paddings
Photo: Amazon UK
Created with a 'pocket' to slot the padding inserts, these underwears can be worn with and without padding to suit your different needs. Depending on the thickness of the paddings you choose, you can amp up your butt or make it look natural. However, the cost may be higher for this option as the paddings are sold separately from the underwear.
Photo: Feel Foxy
These are paddings which have an adhesive back that can be stuck on to any types of clothing. They also come in different shapes, sizes and thickness! However, these may not be the most secure option available.
Besides doing the right workout and choosing the clothes that flatter your butt shapes, find out what are the types of food you should eat to get a beautiful booty here!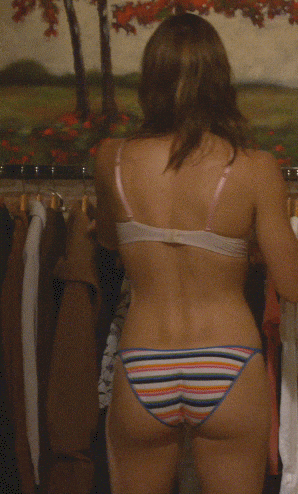 By GIPHY
Truthfully though, there is no such thing as an 'ideal butt' because the definition for such judgment is very subjective. As long as you are comfortable in your own skin, you can make any butt shape work! The ideal butt is one that you're confident in.
Cover Image: Aferfi.hu