Whether you are a Marvel or DC fan, you can't deny that the superheroes are hot. Like, really HOT! The recent release of The...
Whether you are a Marvel or DC fan, you can't deny that the superheroes are hot. Like, really HOT! The recent release of The Justice League movie brought us even more heroes to drool about (girls and guys alike).
Yes, I'm talking about the guy with beach waves in his glorious hair – The Aquaman.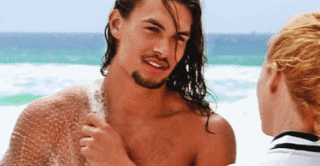 By GIPHY
Besides being easy on the eyes, the 38 years old Hawaiian actor is jam-packed with goodness. From his defined abs to those exploding chest muscles, how can anyone be so perfect?
By GIPHY
We just can't get enough of that ribbed body.
Photo: Tampang.com
Do you prefer the younger or older Jason Momoa? I'm in love with BOTH.
Did I mention that he's standing at a towering height of 1.93m?! Wow.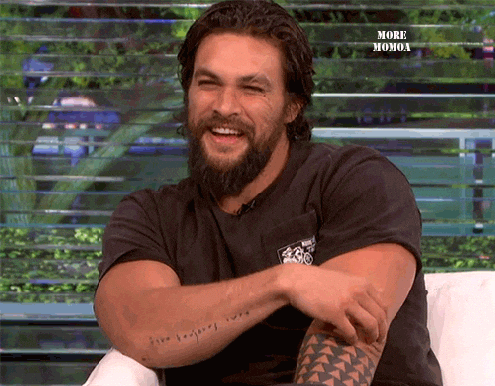 While Aquaman is equipped with superhuman strength, speed, durability and can communicate with aquatic creatures, we believe his smile is his deadliest weapon. No doubts.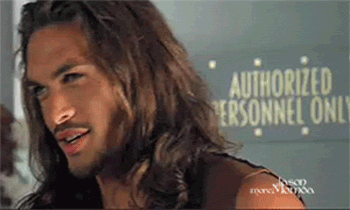 By GIPHY
Also, I can't be the only who sees the striking resemblance between him and Johnny Depp?!
Photo: 7Wallpapers
I won't blame you if you've imagined yourself caressing this work of art.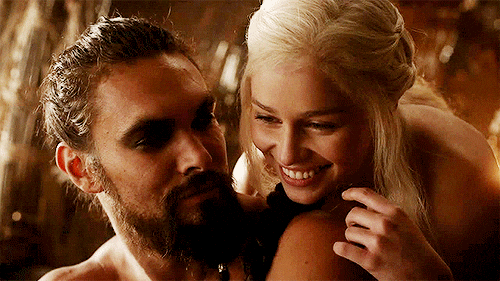 By GIPHY
So go ahead and let your naughty imaginations run free! (wink)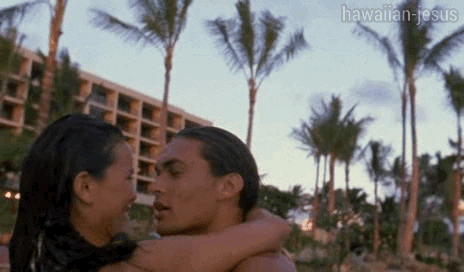 By GIPHY
Now, if you're wondering "What exactly must I do to achieve Jason Momoa's superhero physique?!" Well, you're about to find out!
1. Consume more calories
Photo: Teys Australia
Yes, you heard me right. In only to build muscles, you will need to consume more calories so your body can burn the excess calories into energy. However, that doesn't mean you can start indulging in junk food. It is vital that you gain weight through the consumption of lean proteins, carbohydrates, and healthy fats. Consume more vegetable, lean beef, eggs, skinless chicken breast and salmon. Know how much calories you require each day, and increase your calories count gradually until you find the optimal number to gain weight.
2. Increase the frequency of your gym visits
Photo: LinkedIn
It takes a lot of determination and perseverance to bulk. Jason Momoa's gym routine includes a minimum 2 hours workout in the gym for about 5 to 6 days a week. Push yourself to your limits and reap the rewards you sow!
3. Rope exercises
Photo: Pinterest
Grab your training ropes and start working those muscles. Get ready for an intense cardio workout.
Waving them up and down train your arm muscles independently.
Swinging them from side to side builds your core and hips, allowing for body stability.
Swinging them in circular motions work your shoulders.
Making sure to include all these different directions in your rope routine increases your strength.
Also, move closer to the anchor point to challenge yourself as the exercise intensity increases.
Alternate between these directions after about 10-20 minutes each.
3. Rock climbing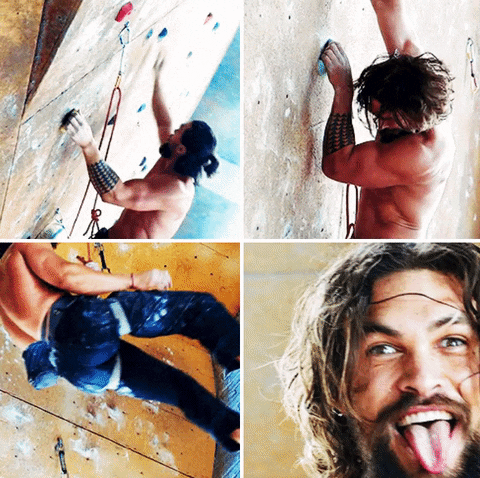 By GIPHY
Rock climbing is a fun and effective way to strengthen your upper body and to train a solid grip. Strength is required for you to hang on to the wall, and your muscles maintain in a constantly tensed condition, allowing you to build strong arms, shoulders and thigh muscles. As a bonus, your back gets conditioned through the climb too!
4. Pull-ups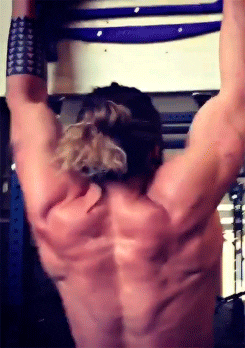 By GIPHY
This seemingly simple exercise tones your upper body and encourages new muscle growth. The width of your grip affects the muscles you train. A wider grip pull-up will work the outer parts of your back more while a closer grip pull-up trains the middle back. It is advised that you do a mixture of both grips during your routine.
As shown on Momoa's Instagram, his routine involves weighted pull-ups. You can start small by using a weighted belt or secure a dumbbell with your legs while you do your pull-ups. This allows you to build upper body strength more effectively.
5. Repeat the routines
By GIPHY
If you're really serious about building your body, endurance is key. Momoa's insane workout routine begins with 10 reps, and gradually reduce until he hit 1 rep. Thereafter, he repeats his routine from 1 rep all the way back up to 10 rep again. Feel the pain and not fear it! If Momoa can do it, so can you.
Achieving the Aquaman body definitely requires a lot of dedication and determination. While you may not be able to achieve similar results in a short period of time, your endurance will pay off when you find yourself in a better shape! Once you've gotten the superhero physique, all that remains is to grow your hair out!
Cover Image: NewNowNext.com